Bibliothèque Saint-Joachim is a municipal library which serves the residents of the Municipality of La Broquerie and surrounding areas. It is governed by the Municipality of La Broquerie and is situated in École Saint-Joachim, at 29 Normandeau Bay, in the heart of La Broquerie.
The library is reserved for the students and personnel of École Saint-Joachim during the school day. It is open to the public Monday to Thursday, from 3:30 PM to 8:30 PM and Friday, from 3:30 PM to 6:30 PM. During the summer months, the hours are modified to better serve our clients.
We have an inventory of close to 32,000 articles: books, periodicals, videocassettes, DVD's and CD's, for children, adolescents and adults. The library subscribes to a wide variety of periodicals. We have some for all ages - from the youngest to the oldest - which cover a broad range of subjects. We also carry collections of books in other languages which we borrow as the need arises. There is something for everyone here.
If we don't have the book you are looking for, it is always possible to conduct a search for it in other libraries in Manitoba, and if need be, in other national libraries. Once located, we can order it and it will be delivered to the library, often in a delay of only a few days.
For more information about the services available at the library, please de not hesitate to contact us.
It's always a pleasure serving you.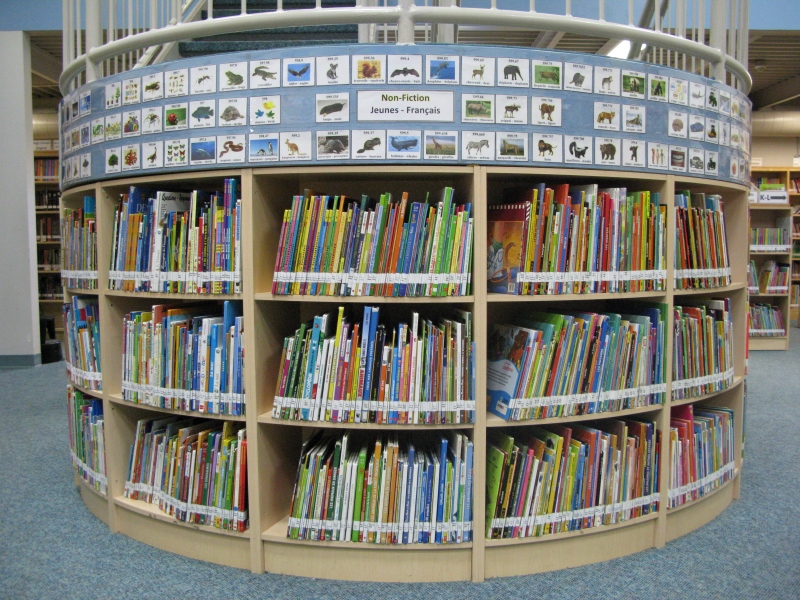 Vision
Bibliothèque Saint-Joachim Library
offers accessibility to a variety of educational, informational,
cultural and recreational resources to all community members
as a means of stimulating interest in reading and promoting lifelong learning.